Tidligere har vi skrevet om bl.a. grøntsagspressere, citronpressere og nu er tiden så kommet til æblepressere. Såfremt du går og overvejer at købe en ny æblepresser, kan du med fordel læse denne artikel. Vi har ikke lavet en decideret æblepresser test, men har derimod fundet frem til de mest solgte æblepressere på markedet. Du kan desuden forvente at læse, om hvilken egenskaber en æblepresser skal have i forhold til en traditionel saftpresser.
Bedste æblepresser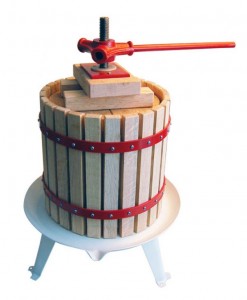 Producent: Millarco
Pris: 479 kr. (Vejledende pris: 699 kr.)
Forhandler: 10-4.dk
Her er et eksempel på en stor æblepresser med en kapacitet på 12 liter. Den er mest praktisk til æbler, men kan naturligvis også bruges til at presse pærer og andre typer frugter.
Den er lavet af bøgetræ og har en vægt på ca. 12 kg. Med i købet får du 2 stk. saftposer. Den er både TÛV godkendt og LFGB kontrolleret.
Den vejledende udsalgspris for denne æblepresser ligger på 699 kr., så du kan altså spare 31 % hos forhandleren. Vær desuden opmærksom på fragtomkostningerne på 49 kr. bliver lagt oveni prisen. Vi har fået lov til at teste netop denne saftpresser, som vi har været meget tilfredse med. På baggrund af vores test kan vi varmt anbefale at købe denne fine saftpresser fra Millarco
Æblepresser til køkkenet
Producent: Gastroback
Pris: 658 kr.
Forhandler: Wupti.com
Det er ikke alle, der har plads til at have en stor æblepresser stående derhjemme. Derfor kan det være oplagt at kigge på en mindre løsning som denne saftpresser fra Gastroback. Vi vil først og fremmest fremhæve denne frugtpresser for sin fleksbilitet, da det er muligt at putte hele æbler i påfyldningsrøret. Skal man til at bruge tid på at skulle skære æblerne ud, bliver det hurtig en tidskrævende proces.
Til venstre ser du en elektronisk juicepresser, som kan omdanne æbler til lækker, velsmagende juice på ganske få sekunder. Den er udstyret med en kraftig motor på 700 W, samtidig med at filteret er fremstillet af solidt metalt.
Til venstre sidder en praktisk beholder til opsamling af frugtkød. Efterfølgende kan du blot tømme beholderen og vaske den af, så den er klar til brug næste gang. Generelt er rengøringsdelen ikke en særlig stor opgave, hvilket er et endnu et stort plus.
Æblesaft
Danskerne er tilsyneladende helt vilde med friskpresset æblesaft. Det er i hvert fald konklusionen, hvis man kigger på den stigende interesse for æblepressere på det danske marked. Du kan enten vælge at bruge æbler fra din egen have, fra supermarkedet eller være heldig at få lov at samle æbler fra naboens have. Æbler bidrager bl.a. med mineraler, fibre, vitamin C og aminosyrer, som er sunde næringsstoffer. Der kan dog være stor forskel på både smag, farve og flavor fra æble til æble.
Det er naturligvis også muligt at købe færdigt æblesaft i det lokale supermarked, men i forhold til sundhedsværdien kan det ikke anbefales. I forhold til at lave hjemmelavet æblesaft / æblemost, er det også muligt at købe et såkaldt mosteri. Der er tale om en æblepresser i meget stor udgave, som kun vil være relevant for enkelte. Hvis f.eks. dine naboer også nyder at lave friskpresset juice, så kan det være en god idé at gå sammen om at købe et mosteri. Man skal forvente en pris på omkring 4000-6000 kr. for et mosteri i fin kvalitet. Dog er det også muligt at leje et mosteri for en periode, hvilket man også kan undersøge nærmere.
Nogen vælter at putte sukker i saften, mens andre er mest til naturligt æblesaft uden tilsætningsstoffer. Afhængig af æbletypen kan man overveje at tilsætte lidt sukker. Hvis du f.eks. har 5 kg. æbler, så kan du forvente at kunne lave omkring 2 liter ren juice. Vær dog opmærksom på, at mængden i høj grad afhænger af æblerne og ikke mindst kvaliteten af din æblepresser.
Læs også: Dansukker.dk – Opskrift på æblesaft