Gastroback er endnu et brand man ikke kan komme uden om, når man snakker om saftpressere. De kaldes godt nok juicere, men det er det akkurat samme som saftpressere og frugtpressere. På det tyske marked er Gastroback et af førende mærker indenfor køkkenmaskiner. De er ikke markedsleder i Danmark, men de er en de absolut førende indenfor saftpressere. Udover juicere er Gastroback også kendt for bl.a. blendere, espressomaskiner og elkedler. Deres store succes i bl.a. Danmark og Tyskland skyldes i høj grad deres fokus på innovative- og funktionelle løsninger, som også gør sig gældende for deres juicere.
Som du måske har regnet ud, så er Gastroback et tysk mærke, som første dag så dagens lys i 1989. Gastroback har i gennem tiden været rigtig gode til hele tiden at have fingeren på pulsen og skabe nye trends. Deres produkter er tilegnet stilbevidste forbrugere, der sætter pris på kvalitetsprodukter. Udover kvalitet og funktionelt fokus, så er Gastroback også blevet rost rigtig meget for deres brugervenlige produkter. Det er lykkedes Gastroback at skabe nogle produkter, som enhver forbruger kan finde ud af at håndtere.
Mere info: http://www.gastroback.cz/
Gastroback juicer test
Der findes rigtig mange forskellige Gastroback juicere, som har forskellige positive- og negative sider. Vi har testet ikke mindre end 6 forskellige juicere og udvalgt de 3 bedste. Det har været en svær beslutning, for samtlige Gastroback juicere har nogle helt i gennem fantastiske egenskaber.  Nedenfor kan du se vores nuværende top 3 over de bedste Gastroback juicere. Denne liste kan ændre sig, hvis der skulle blive lanceret nogle nye og endnu bedre juicere fra Gastroback.
Gastroback 40128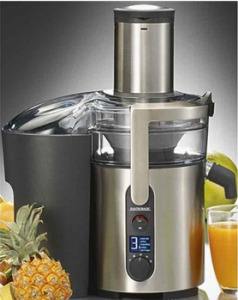 Pris: 2399 kr.
Forhandler: Wupti.dk
Den første Gastroback juicer vi testede var denne juicer med modelnummeret "40128". På forhånd havde vi kun hørt positiv feedback om denne saftpresser, så det var spændende at finde ud af, om den kunne leve op til kravene.
Efter at have testet den på både funktionalitet, rengøring, hastighed m.m. var vi overbevist om, at den levede op til sin positive omtale.
Det første positive ved denne juicer er, at den har en motor på ikke mindre end 1300 W. Derudover har den hele 5 forskellige hastigheder afhængig af, hvilke frugter / grøntsager man skal presse.
Beholderen til frugtrester kan indeholde op til 3 liter, mens beholderen til juicen kan indeholde 1,2 liter.
Gastroback juicer 40127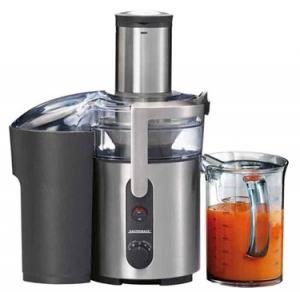 Pris: 2199 kr.
Forhandler: Wupti.com
På en flot 2. plads i vores test af Gastroback juicer har vi denne saftpresser med modelnummeret "40127". Ligesom den forrige model har denne juicer også en motor, der kører på 1300 W samt 5 forskellige hastigheder.
Vi er vilde med denne Gastroback saftpresser, da den er elektronisk styret. Det er muligt at styre motoren via knappen på siden af frugtpresseren.
Med denne Gastroback juicer 40127 medfølger der en børste, som man nemt og hurtigt kan rengøre maskinen med.
Selve maskinen er lavet af stål, hvilket giver den et meget fancy look. Den har altså næsten de samme funktioner som testvinderen.
Gastroback juicer Advanced Pro

Pris: 2999 kr. (Prisgaranti)
Forhandler: Whiteaway.com
Vi skulle naturligvis også finde en Gastroback saftpresser til 3. pladsen, og valget faldt på Advanced Pro. Navnet på saftpressen er ikke helt tilfældigt, for maskinen kan bruges til professionel brug. Denne Gastroback har den mest kraftfulde motor, vi har hørt om – nemlig 1500 W. Denne juicer kører mellem 6500 og 13000 omdrejninger i minuttet. Selve maskinen er lavet af rustfrit stål, hvilket er meget stilfuldt.
Forhandlere af Gastroback juicere
Der er faktisk relativt mange forhandlere af Gastroback saftpressere. Dog er der ret meget forskel på, hvor stort udvalg de har i forskellige butikker. Den bedste forhandler jeg har stødt på er Wupti, som i skrivende stund har et udvalg på 8 forskellige Gastroback juicere. Jeg tvivler på, at man kan finde en dansk forhandler med et større udvalg. Derudover har de nogle ganske fornuftige priser, som oftest er billigere end konkurrenterne. I øjeblikket er samtlige af deres Gastroback juicere på lager, men det kan selvfølgelig hurtig ændre sig.
Wupti.com har desuden en rigtig smart sammenligningsfunktion, hvor man selv kan vælge hvilke saftpressere, man ønsker at sammenligne. Kort tid efter dukker der et skema op på din skærm, hvor saftpresserne er sammenlignet på bl.a. kapacitet, effekt, materiale og meget andet. Hvis du fortsat er i tvivl om, hvilken frugtpresser du skal købe, vil jeg anbefale dig at benytte dig af denne mulighed.
Vi anbefaler også: